MSD114 Preschool Screening

What is preschool screening?
Screening is a quick look at how your 3-5 year old child is learning and growing. The areas we screen are development of motor skills, thinking and language skills, self-help skills, and emotional growth. Screenings allow us to determine the level of your child's development, if a more in-depth evaluation is needed, and if children qualify for Preschool for All programming.
Why come for a screening?
Every child grows and develops at his or her own pace. Still, child development tends to follow a predictable path. As a parent you may wonder if your 3-4 year old child is learning or growing in the way you expect. The chart below gives some milestones to consider for ages 2 to 4.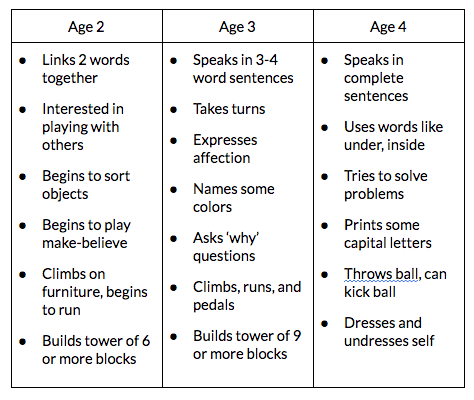 Preschool Screenings are held year-round!
Dates are listed below for our year-round screenings. Please contact Kaila Pfieffer to register for a preschool screening at kpfieffer@manhattan114.org.